Aluminium Foil Trays | Foil Pans
Product Name: Aluminum Foil Trays/Pans
Alloy: 8011/3003
Application: For Food, Airline, Kitchen, Restaurant, Hotel, BBQ etc
Material: Aluminum Foil(Grade A)
Shape: Rectangle/Round/Oval/Square

General Details
Haomei engaged in supply premier
aluminium foil trays
, disposable aluminium foil pans for food container pack use. With high quality manufacturing, and an extensive range of sizes available, there is a solution for any type of food service application.
Based on the advanced production line, Haomei supplies different types of disposable aluminum foil food trays and pans with different sizes and designs. Meanwhile, we could help customers find better solutions based on market requirements. Our main customers are food service distribution companies, restaurant distributors, restaurant wholesale, aviation, disposable meal services and other food packaging companies.
Specialized in disposable aluminum foil containers, Haomei can manufacture products based on strict guidelines for food packaging. We have made a long-term cooperation with many customers around the world. We convince that our price will be low for you and also the quality is superior!
Advantages of aluminium foil food trays
Lids are lined with P.E.T. to resist moisture
Made from foodsafe aluminium
Multiple sizes available for portion control
Oven safe
Vertical flange edges and foldable corners make these containers suitable for use with a lid
Disposable, Without smell, Impermeability
Size and shape Customized and High Quality
China Factory, FDA,SGS,ISO Certificated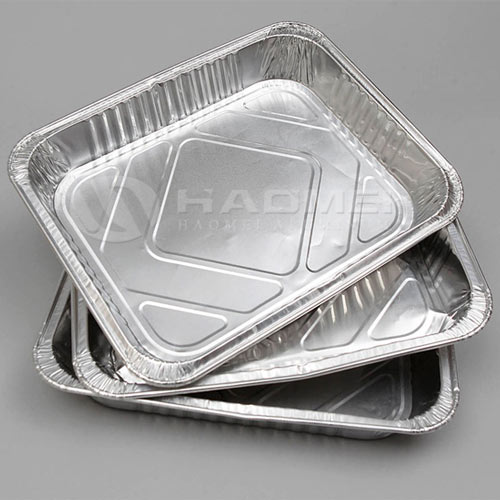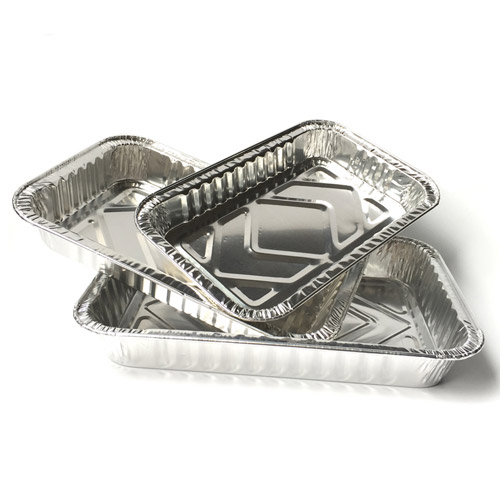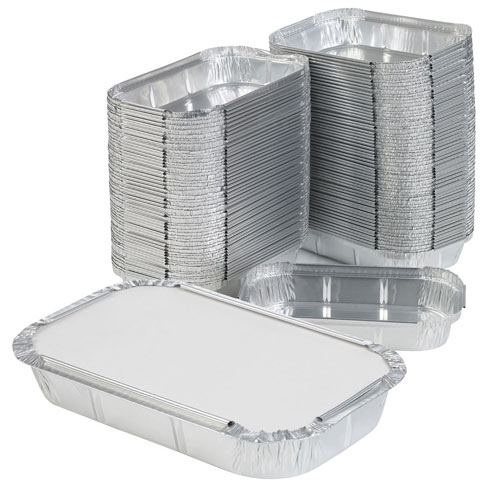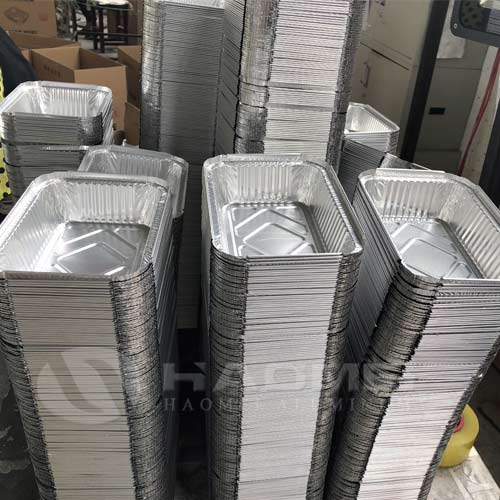 Product name
Disposable Aluminum Foil Trays for Food Containers
Brand
Haomei
material
Aluminum foil
Alloy
3003, 8011
Logo
Press logos according to clients' requests.
usage
Fast Food / Supermarket, Baking, Food container/disposable meal box/disposable lunch box for airline, for hotel, restaurant, bakery, aviation.
Port
QingDao/TianJin/NingBo/Shanghai
Payment terms
T/T,L/C,Western Union,PayPal,Other
Minimum order quantity
10,000pcs
Supply ability
100,000pcs/day
Package
shrink wrap with private label we can pack according customer's requirement
Delivery time
20-35 days(general) depend on the style and quantity
Detailed features
1. Materials: Aluminum Foil, good glossy environment-friendly and recyclability

2.Various dimensions and shapes available, including rectangle, oblong and square with hemmed and curl edge

3.Packing: Hot Shrink Packing ,Bulk Packing ,Display Box Packing

4. High temperature sterilization

5. Make the molds as customers' requirements

About product
1. High-temperature furnace products, exported to Europe and United States, Japan, etc. Deeply loved by domestic and foreign client, quality assurance.

2. Food container/disposable meal box/disposable lunch box for airline, for hotel, restaurant, bakery, supermarket, airline, high quality, safe, competitive
Specifications
Product name
Disposable Aluminum Foil Trays for Food Containers
Brand
Haomei
material
Aluminum foil
Alloy
3003, 8011
Logo
Press logos according to clients' requests.
usage
Fast Food / Supermarket, Baking, Food container/disposable meal box/disposable lunch box for airline, for hotel, restaurant, bakery, aviation.
Port
QingDao/TianJin/NingBo/Shanghai
Payment terms
T/T,L/C,Western Union,PayPal,Other
Minimum order quantity
10,000pcs
Supply ability
100,000pcs/day
Package
shrink wrap with private label we can pack according customer's requirement
Delivery time
20-35 days(general) depend on the style and quantity
Detailed features
1. Materials: Aluminum Foil, good glossy environment-friendly and recyclability

2.Various dimensions and shapes available, including rectangle, oblong and square with hemmed and curl edge

3.Packing: Hot Shrink Packing ,Bulk Packing ,Display Box Packing

4. High temperature sterilization

5. Make the molds as customers' requirements

About product
1. High-temperature furnace products, exported to Europe and United States, Japan, etc. Deeply loved by domestic and foreign client, quality assurance.

2. Food container/disposable meal box/disposable lunch box for airline, for hotel, restaurant, bakery, supermarket, airline, high quality, safe, competitive