Aluminium foil for packaging material are 8011,1235,1060 with thickness of 0.009– 0.23mm, Haomei has rich export experience on supply packaging aluminum foil. The application of aluminum foil in packaging mainly has two kinds: one is aluminum plastic or aluminum paper composite packaging; The other is a multilayer composite aluminum, plastic and paper packaging. Especially when the composite aluminum foil with plastic and paper, the strength of the block of aluminum foil and paper, plastic heat sealing, necessary to further improved as packing material for steam, air, bacteria and ultraviolet shielding performance, greatly broaden the application market of aluminum foil.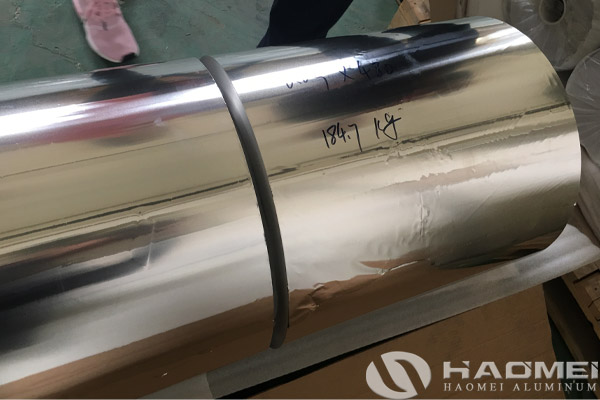 Packaging aluminum foil is mainly used for the metallic luster of aluminum foil, light insulation, air insulation and a certain strength, ductility. The use isdifferent, emphasis on the performance of different, according to the use of flexible packaging aluminum foil can be divided into three categories:
The first category, food and drug packaging category, mainly to seal, mainly emphasis on air, light, non-toxic. This kind of aluminum foil includes: pharmaceutical, quasi-pharmaceutical (medical devices, medical supplies) packaging, 0.02 micron, 0.015 micron, 0.009 micron, 0.007 micron. Food, quasi-food packaging, 0.015, 0.012, 0.009, 0.007 micron.
The second class, decorative class, mainly to beauty, mainly emphasizes the uniform surface gloss. This kind of aluminium foil for packaging includes various printing packaging, advertising.
The third category, between one and two, both to a certain sealing and a certain aesthetic. Mainly used for cigarette, wine, food packaging.