The aluminum foil for medicine 8011 8021 o h18 used in pharmaceutical packaging industry is mainly used in water packing, injection-packing, easy tear caps, tropical and blister packs. Blister packaging is one of the forms of flexible pharmaceutical packaging that has developed rapidly in recent years.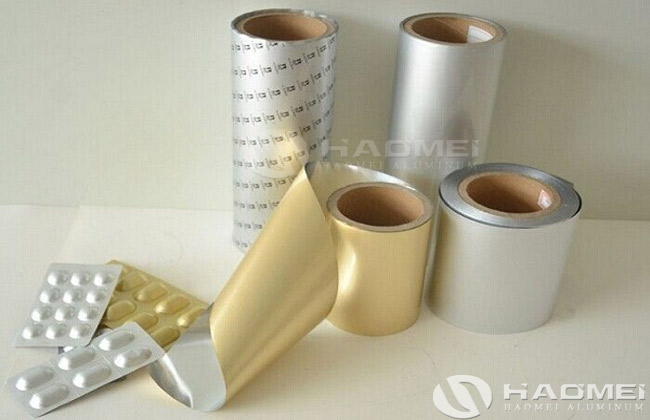 Aluminum foil is a sealing material sealed on medicinal plastic hard sheet. It is usually called a lid material, the aluminum foil for medicine used alloy are 8011 and 8021, the tempers are O and H14. Blister packaging has become the most important packaging method for medicine tablets and capsules. The packaging of tablets, powder, capsules and granules is gradually becoming aluminum-plastic blister packaging. Aluminum-plastic blister packaging will increase from current 25% of the domestic pharmaceutical packaging market to 60% to 70%. With the development of drug release technology, the market will be even broader. Aseptic packaging of pharmaceuticals is a potential market. At present, only some enterprises produce health drinks such as aseptically packaged herbal tea, and there is no proprietary Chinese medicine for developing aseptic packaging water. This will be an important new area of flexible pharmaceutical foil packaging.
In modern pharmaceutical packaging, almost all products that require opaque, high barrier composites use aluminum foil for medicine 8011 8021 o h18 as a barrier. Therefore, the application is very extensive.