Haomei an aluminum foil for yogurt packaging manufacturer for yoghurt sealing film, we supply 8011O aluminum foil with thickness of 0.016-0.5mm. The 8011 aluminium foil is raw base material for composed sealing film, we do not provide post-composite, printing, adhesive and other processing techniques. The yoghurt lid aluminium foil offered by Haomei aluminum is clean oil, clean surface, food grade, affordable and widely used in cup-shaped food container sealing film for cup yoghurt, milk tea, instant noodles, jelly, etc.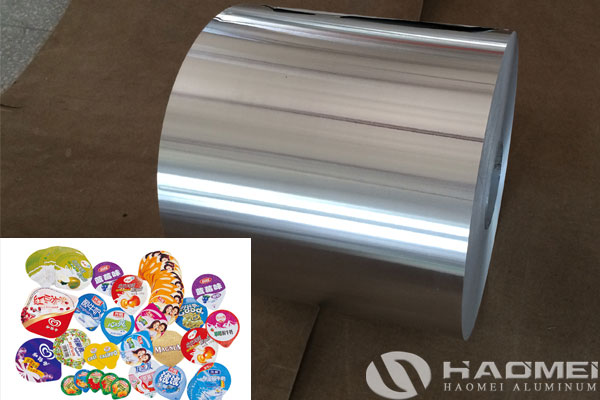 Most of the yoghurt cup cover film is made of aluminum foil composite film, mainly to ensure the high barrier of the seal and to meet the pipette easy to puncture. The yogurt package often uses a film made of aluminum foil as the cup cover film, that is composite film formed by aluminum foil and other plastics film. Because yoghurt contains a lot of fat and protein components, its packaging material is required to have high oxygen barrier property, and the cover film of aluminium foil composed material has high barrier property, which can ensure the excellent oxygen barrier property of the yoghurt cup. At the same time, it is easy to be puncture by the straw and eaten by the consumers.
The yoghurt cover film mainly by composite material, the structure is polyester / aluminum foil for yogurt packaging / heat seal layer (PET / AL / PE·EVA). The aluminum foil is comply with the technical requirements of environmental labeling products to ensure health and safety.