Chocolate aluminium foil 8011 supplied by Haomei have good barrier properties, thermal insulation and sealing performance. Most of the high quality chocolates are kept in a sealed aluminum foil package to maintain their aroma. In addition to these important functions, the package can play the role of oil resistance, mildew proof, insect proof and pollution prevention. The packaging materials and forms also enable the chocolate products to avoid quality problems such as breakage, surface cracking, and perforation of the heart, and can be adapted to various physical requirements.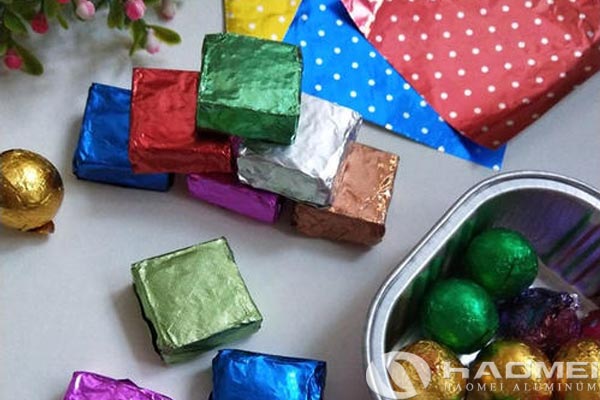 8011 aluminium foil are commonly used in chocolate packaging and can also be used in other food packaging. The thickness of aluminium foil 8011 is 0.012–0.03mm. The advantages of  8011 aluminium chocolate foil are beautiful appearance, good stiffness, good bursting resistance, can be made into various shapes according to needs, food grade, in line with national health standards.
Aluminum foil is a soft metal material. Its biggest advantage in chocolate packaging is its high barrier property. It can effectively block the transmission of non-polar gases such as oxygen and has good moisture and moisture resistance. However, the mechanical strength of the aluminum foil is poor, and it is difficult to package the product alone, and the thermal conductivity is high, which is 203 W/mK, and the use of the aluminum foil package alone may cause the chocolate to melt. Therefore, chocolate aluminium foil composite packaging are often used to compensate for the lack of strength and thermal insulation while maintaining the inherent characteristics of aluminum foil.