Kitchen foil for food packaging aluminium foil is used for soft packing in daily household. Haomei Aluminum have rich experience in aluminium foil manufacturing, and we have been one of the leading household aluminum foil manufacturers in China. The alloys of household aluminum kitchen foil are 8006, 8079, 8011 and 1235. The temper is O, the thickness is 0.008mm-0.025mm, the width is 200mm-1500mm, the coil diameter is 76/152MM (3″/6″), the application is household food packaging and preservation, etc.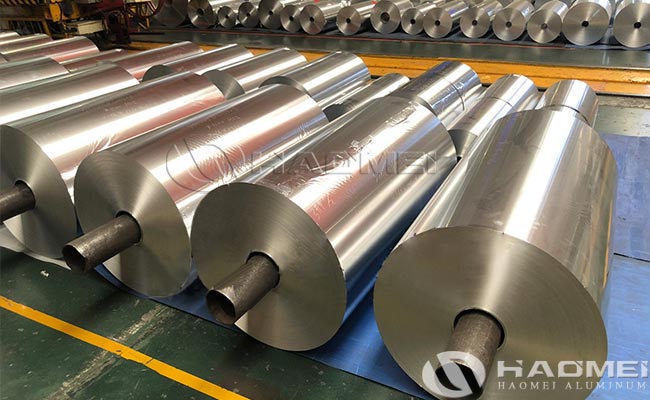 Kitchen foil for food packaging aluminium foil is mostly used to wrap the grilling ingredients to prevent the meat from scorching. The melting point of aluminum is 660 degrees, which is far higher than the temperature of most household ovens and will not melt during use. It is best to choose aluminum foil paper to applied in household use, and its lead content should comply with national standards. Household aluminum foil and tin foil are easy to distinguish. Tin foil is much brighter than aluminum foil, but it has poor ductility and breaks when you pull it. Aluminum foil is more rigid and is mostly packaged in rolls, which is cheaper.
Haomei Aluminum is an aluminum deep-processing enterprise mainly producing kitchen foil for food packaging aluminium foil. The company is located in Henan Province. The company was founded in 1990, covers an area of 1,000 acres, has a designed annual production capacity of 300,000 tons, and a total investment of 4.2 billion yuan. We have 22 casting and rolling production lines, 10 cold rolling production lines, 8 foil rolling, and 9 hydrophilic/coating production lines have been put into operation. At present, forming an annual production capacity of 200,000 tons of aluminum plate, strip and foil.