Pharma use aluminium foil is a kind of aluminum foil used for medicine packaging, also called aluminum foil for blister packaging. The pharmaceutical aluminium foil was formed in Europe in the 1930s. At present, medicine aluminum foil gravure printing equipment has been able to meet the needs of pharmaceutical packaging. Because blister packaging is widely used, it is a fast-growing flexible packaging material in recent years, and it is also the main packaging form in other fields such as food, health products and medicine.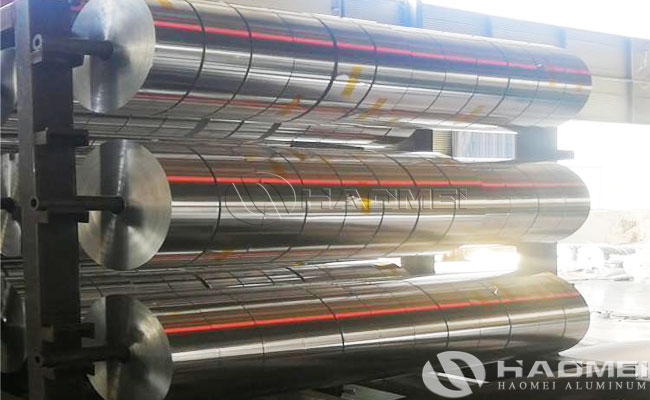 Pharma use aluminium foil for pharmaceutical packaging usually uses 8011-H18 aluminum foil, 8011-O aluminum foil, etc., with a thickness of 0.016-0.04mm, and has the advantages of high cupping value, high heat-seal strength, and good airtightness. Haomei Aluminum is a supplier of medicine aluminum foil raw materials for a pharmaceutical packaging company. The development prospect of medicinal aluminum foil is very good.
At present, pharma use aluminium foil for medical packaging is mainly used for packaging liquids, injections, easy-open bottle caps and aluminum foil for pharmaceutical packaging. In particular, pharmaceutical aluminum foil has the advantages of moisture resistance, safety and sanitation and convenient carrying, etc., and is widely used in the international pharmaceutical industry.
Specifications: width 100-1600mm, thickness: 0.016mm~0.40mm, diameter according to customer requirements
Characteristics: high barrier, heat-sealable, well-sealed, printable, easy to puncture, no pinholes, good sealing, uniform coating, good heat-sealing effect, clear and beautiful printing, good gloss.
Usage: It can be used in the packaging of pharmaceutical tablets and pills with PVC hard film, and can also be used in blister packaging of food, candy, chocolate, chewing gum, etc.