Aluminum closure caps are very common in daily life, such as wine caps, easy-open caps, pharmaceutical bottle caps, milk powder easy-to-tear caps, etc., are generally made of 8011 aluminum foil, which has the advantages of good sealing and easy opening, and is popular among everyone. 8011 aluminum foil for closure caps has excellent moisture resistance, light shading and high barrier ability, clean surface, uniform color, no mottle, high elongation, good sealing, excellent printing effect, it is commonly used by bottle cap manufacturers raw materials.
Specifications of 8011 aluminum foil for closure cap material:
Alloy: 8011
Tempers: H14/H16
Thickness range: 0.15-0.27mm
Width range: 330-1000mm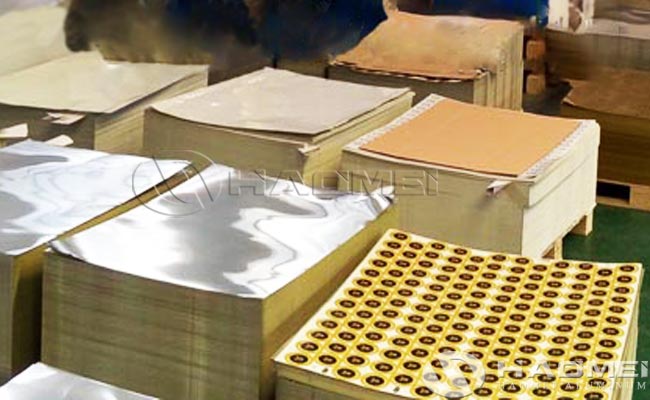 The production process of 8011 aluminium foil for closure caps: 8011 bottle cap material process should be completed through multiple processes such as cold rolling – foil rolling annealing thickness – annealing – foil rolling finished product – stretch bending straightening – slitting, etc. After the finished coil is produced, it will also go through leveling machine cutting, painting, drying, multiple stamping, anti-counterfeiting marks and other processes, finally produce qualified aluminum foil for bottle caps materials.
What are the requirements for aluminum foil for bottle closure caps? The aluminum foil surface is flat and smooth, without obvious roll marks, black lines, oil spots, dust inclusions, scratches, bright stripes and other defects, and the ear-making rate is controlled within 3%.
Advantages of aluminum bottle caps:
Simple appearance
Fine production
No pollution
Good sealing
Recyclable
Haomei Aluminum is a professional manufacturer of 8011 aluminum foil for closure caps, providing high quality aluminum anti theft bottle cap material 8011 aluminum foil, its hardness is between H14-H24, the tensile strength is between 110-320, and the elongation is generally not less than 4, water brushing grade A, low ear-making rate, can meet special requirements such as high-temperature cooking and sterilization, and is widely used as liquor bottle caps, red wine bottle caps, cosmetic bottle caps, milk powder caps, medical caps, beverage caps, yogurt caps, etc.