The aluminium mylar foil are usually used for making cable wrapping film and aluminum foil laminated bag punch. The aluminium foil layer offered by Haomei Aluminum have clean surface, less pinhole and good barrier performance. The cable foil is 1060 aluminium foil, the outer surface of the communication cable needs to be wrapped with a layer of aluminum foil for protection and shielding, the aluminium foil layer is used as a shield for cables. The cable aluminium foil requires less oil on the surface, no holes, and high mechanical properties.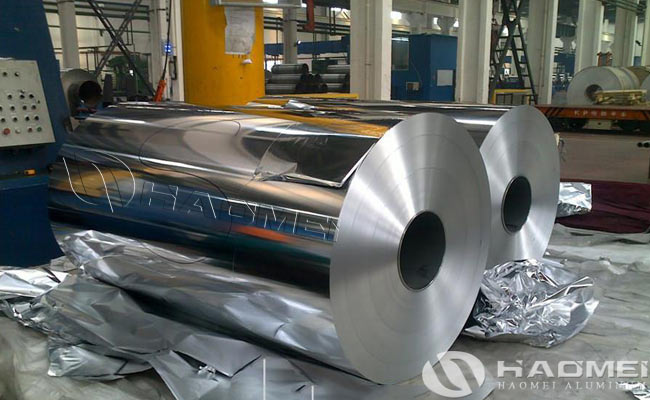 Cover the surface of the aluminum foil with plastic film, cut into several small strips and supply them to the cable factory in a reel shape. Because this composite aluminum foil has the advantages of light weight, good protection and shielding effect, etc. If the mechanical properties of the cable aluminium mylar foil are not qualified, the performance of the aluminum foil cannot be correctly reflected. It often happens that the performance indicators reviewed by the customer are very different from those detected by the manufacturer. According to the national standard, the aluminum foil sample is in the shape of a long strip, 15mm wide, and the gauge length is 100mm. The two sides must be parallel. When cutting with a paper cutter, there should be no pause, and there should be no gaps and burrs. The specimen clamping should be vertical to prevent premature rupture due to stress concentration.
The aluminium mylar foil for cable is delivered in rolls, and the inside of the roll cannot be inspected before leaving the factory. It is very troublesome for customers to find holes in the cable aluminium foil during the lamination process. If it is cut from the hole, the length of aluminum foil will be insufficient, the whole roll will be scrapped, and the plastic film will be lost, resulting in a great loss. The appearance of holes is mainly caused by the poor quality of the cast and rolled billets.