The cigarette box inner packaging material is aluminum foil paper, which also known as aluminum foil for smoking packaging, aluminum foil for cigarette packaging and cigarette aluminium foil, the surface can be silver, gold and mill finish. As aluminum foil paper for cigarette liner packaging, there are mainly calendered aluminum foil paper and aluminized paper. Nowadays, composite cigarette aluminum foil paper has become a material with development potential, it has high barrier to light, gas, water and anti-corrosion, good optical effect, good shielding and reaction to light and ultraviolet light, can effectively prevent the aging effect of light on tobacco content.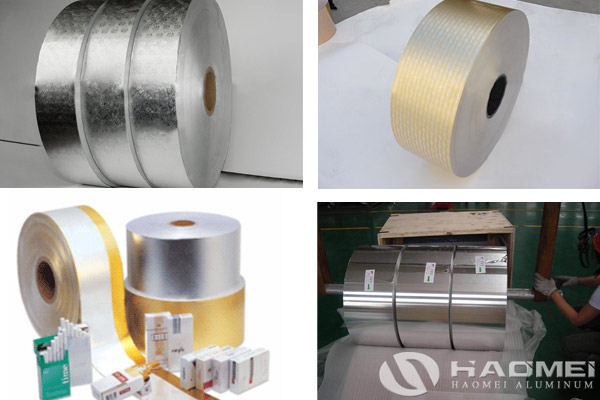 The quality standard of aluminum foil for cigarette packaging is quite high, the rolling of double-sheet aluminum foil (aluminum foil produced by double rolling) represents the ultimate thickness that can be achieved by rolling technology and is the concentrated expression of the highest level of rolling technology. At present, ultra-thin aluminum foils with a thickness of 0.005 mm or even 0.0045 mm have been developed for smoking packaging, and the thickness tolerance is generally ±2 to 3%. Which stands for the high technology and save cost for cigarette enterprise.
At present, the thin aluminum foil with a thickness of less than 0.006mm is showing a prosperous situation and has a broad prospect on the market. The production of high-quality double-sheet aluminum foil for smoking packaging 1235 o achieve a good level of flatness, uniform surface, small number of pinholes, and small thickness deviation, which needs high quality standards in terms of blank quality, rolling process and equipment, operation technology and management mechanism.