Aluminum foil for takeout containers is a key product of Haomei Aluminum Foil, which is favoured by customers and market. The safety of food packaging materials is an important part of food safety. Aluminum foil takeout container is a kind of green and environmentally friendly lunch box container. Its raw material is made of 3000 series or 8000 series aluminum foil, which is punched by special equipment. The raw material is non-toxic and recyclable. It is more and more widely used in daily life.
Although food delivery is convenient for us, it puts great pressure on the environment. It may take hundreds of years for a small takeaway container to degrade naturally. With the increasingly serious environmental pollution, aluminum foil takeout containers conform to the trend of environmental protection and become the most widely used type of take out containers. At present, the use of aluminum foil containers and household food packaging aluminum foil is very common.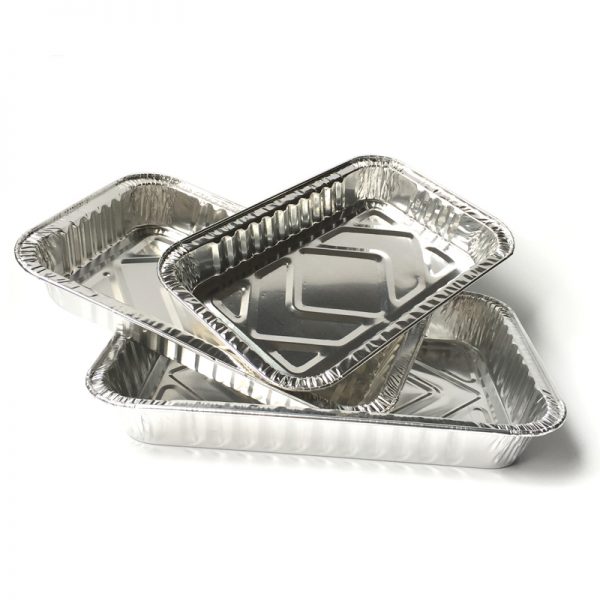 The aluminum foil takeout container is made of 3004 aluminum foil. 3004 aluminum foil for food container is an aluminum alloy with manganese as the main element. It belongs to heat treatment non-strengthened aluminum alloy. It has high plasticity, excellent formability, good welding performance, higher strength than 1000 series aluminum alloy, and corrosion resistance close to 1000 series aluminum alloy. , is a medium-strength aluminum alloy with good corrosion resistance.
There are many characteristics and advantages of aluminum foil for takeout containers, including safety and hygiene, high and low temperature resistance, green environmental protection, regeneration and energy saving, good sealing, beautiful appearance, convenience and quickness, etc. Aluminum foil takeout containers have strong barrier properties, can protect the original flavor of food, and extend the shelf life of food. It is convenient for production and sales, and it is also convenient for catering companies, restaurants, supermarkets and household storage to avoid product deterioration, extend shelf life and reduce food waste.