Haomei supply high quality aluminum foil large rolls 3003 8011 applied in packaging, household, electrical, air conditioning, cable and construction industry. Aluminum foil jumbo rolls classification can be divided into packaging foil, commodity foil, electrical equipment foil and construction foil according to the type of use. Haomei Aluminum can produce 0.01-0.2mm 1060, 1070, 1100, 1145, 1235, 3003, 8011, 8079, 8021 aluminum foil roll with temper of O, H14, H16, H18, H19, H22, H24 etc, these jumbo aluminum foil rolls are of superior quality, flat and flawless.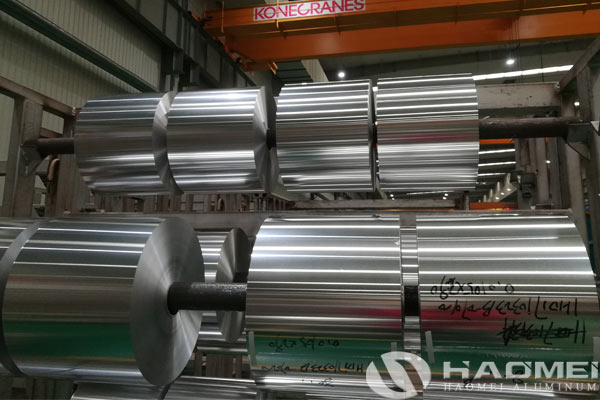 Food packaging aluminum foil roll are used to processed into food packaging bags for food storage and preservation. Air-conditioning aluminum foil is a special material for manufacturing heat exchanger fins for air conditioners, and the thickness of the air-conditioning foil is 0.1 mm to 0.15 mm. The aluminum foil jumbo roll should have good formability, its structure and properties must be uniform, metallurgical defects are small, anisotropy is small, and strength is required, ductility is good, thickness is uniform, and flatness is good.
Decorative aluminum foil has the advantages of heat insulation, moisture, sound, fire and easy to clean, and the appearance is luxurious, easy to process. Mainly used for decoration of buildings, furniture and some gift boxes. Cable aluminum foil large roll is the use of aluminum foil sealing and shielding, single or double coated with a plastic film, the aluminum-plastic composite foil is used as a shield for the cable.