China pharmaceutical aluminum foil suppliers – Haomei can produce aluminum foil with excellent mechanical properties, gloss printability, transparency, high barrier performance. The requirements for aluminum foil materials in pharmaceutical packaging industry are very strict, it must be safe and non-toxic because the state is very strict with regard to human health issues. The aluminum foil material for pharmaceutical packaging has a history of more than 50 years, and is now a widely used pharmaceutical packaging model in the world.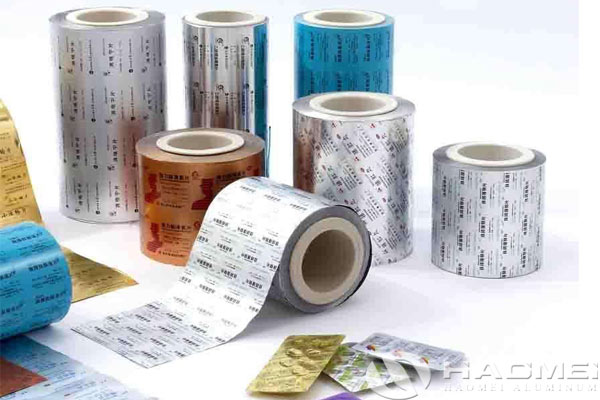 8011 aluminum foil plays an important role in the packaging of pharmaceutical materials. 8011 aluminum foil is the representative product of 8000 series aluminum foil. 8011 pharmaceutical aluminum foil has excellent moisture resistance, shading and high barrier ability, non-toxic and tasteless, safe and hygienic. It is often used in the fields of medicine foil, tape foil, food containers, food packaging foil and so on. The pharmaceutical aluminum foil suppliers can produce 8011 aluminum foil with temper O, H14, H16, H18, H19, H22, H24, the thickness is 0.018-0.5mm, the width is 100-1600 mm.
China pharmaceutical aluminum foil suppliers usually produce the base aluminum foil for pharmaceutical packaging. In the medicine packaging industry, the aluminum foil is commonly composite of other film to form complete packaging film with barrier, mechanics and heat sealing properties. It is an excellent aluminum composite packaging material with great application potential.