Cigarette aluminum foil is a kind of packing aluminum foil used in daily life, it is also called cigarette packaging aluminum foil, and silver aluminum foil. Commonly used alloy is 8011, and the temper is O. The usage is printing or paint used for cigarette packaging, and the thickness is 0.0065 to 0.007 mm, the length is 200 to 1400 mm.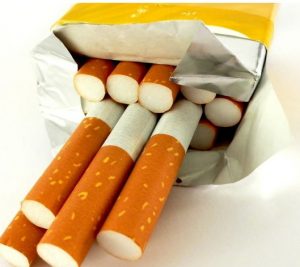 Silver cigarette aluminum foil mainly for moisture-proof effect, other materials (especially paper materials) will not be so good as cigarette foil. Cigarette aluminum foil can prevent the smell and moisture of smoke from running away. With the aluminum foil, the taste of cigarettes is not affected by external stimuli and prevent other taste stale, the invasion of tobacco, the more important is that it is not affected by air and humid environment and taste of cigarettes, not yellow, blocking the light, prevent the deterioration of tobacco, which makes the cigarette life longer. The specification of cigarette aluminum foil Haomei aluminum can supplied:
Alloy: 8011, 1235
Status: O
Size: 0.009 to 0.20 mm
Thickness tolerance: + / – 5%
The width of the tolerance: + / – 1 mm
Width: 100-1600 mm
Inside diameter: 76.2/152.4 core (iron core, aluminum)
Outer diameter: 480-550 – mm
Purpose: smoke foil, tobacco foil, cigarette foil
Surface quality: No scratches oil pollution, the surface is bright and clean, low side bending, no oxidation, colour and lustre degree is high, pinhole rate is low.
Standard: GB/T, JIS, ENAW, ASTM standards
National standard performance:
Tensile: 40-120 mpa
The elongation rate: 1% Min
Packing: packed in wooden cases
Characteristics: with good quality, there are different colors for customers to choose from. We have more than 20 years of aluminum foil production technology.