Haomei is a famous colored aluminum foil supplier in China, we can produce high quality 3003 8011 aluminum foil color coated for food containers and packaging. Haomei color coated aluminum foil are printed with benzene-free ink and water-based ink, it is non-toxic and tasteless, there is no harmful heavy metal content, solvent residue and microbial bacteria index have been tested by national authorities. The printing color fastness, saturation and brilliance can fully meet customer requirements.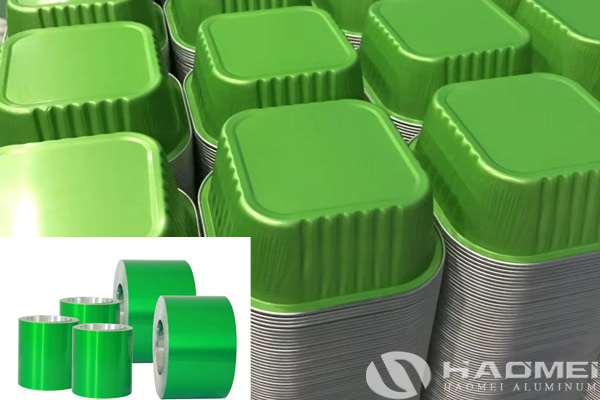 The specification of colored aluminum foil product are:
Alloy: 8011, 3003
Temper: H22, H24
Thickness:0.04-0.2mm
Width:200-1250mm
Coil Id: 75,150mm
At present, aluminum foil is the main product in the packaging field, especially in the field of food packaging. In the assortment of foods, different flavors, different brands, and a variety of shapes. Color coated aluminum foil is used as a lunch box and a food container with many features and advantages. Including raw materials are non-toxic, quality and safe, easy to heat, no harmful substances after heated, easy to form, easy to seal and cover, ensure food hygiene, strong barrier properties, protect food original taste after sealing, and extend food shelf life, can be efficiently recycled Reuse, protect the environment, save resources, and the cost-effective advantage gradually emerges. The color coated aluminium foil food container has many shapes, such as heart-shaped, round, rectangle and square.
Compared with ordinary aluminum foil food containers, the containers made of colored aluminum foil has beautiful appearance, colorful choice, which is favored on the market.