As one of top embossed aluminum foil manufacturers in China, Haomei Aluminum have update the process technology to produce prime quality aluminium foil products. Embossed aluminum foil are mainly applied to packaging and industrial use. In packaging industry, embossed aluminium foil is used for packaging chocolate, candy, beer bottle neck label and so on. While for industrial application, embossed aluminum foil is mainly used for thermal insulation materials of cooling and heating equipment pipelines and outer sheaths of building noise and sound insulation materials rock wool and ultra-fine glass fiber reinforced plastic wool, which play the role of flame retardant, anti-corrosion, heat insulation and sound absorption. At the same time, it can also be used as anti-corrosion, anti-fog, fire-proof and moisture-proof packaging materials for export equipment.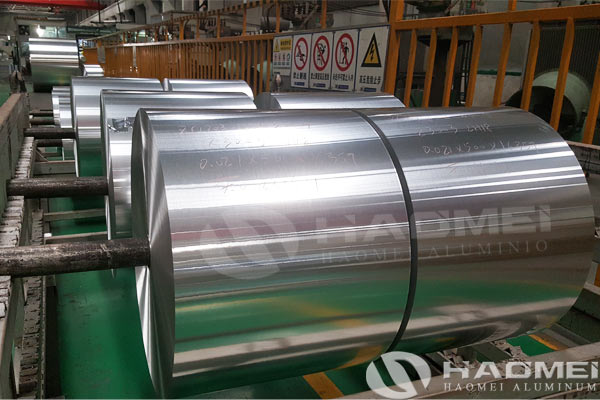 Embossed aluminum foil manufacturers offer high quality aluminum foil for laminated to thermal insulation cotton, the laminated product is odorless, non-toxic, environmentally friendly, lightweight, soft and easy to install. It has the functions of heat reflection, heat insulation, heat preservation, sound insulation, shockproof and shielding, at the same time, it is moisture-proof, sun-proof and waterproof, heat-insulating and energy-saving. In summer, it is moisture-proof, sun-proof, and heat-insulated to save air-conditioning. It has a thermal insulation effect in winter, can save heating, and has a significant energy-saving effect. The aluminum foil thermal insulation material produced by Haomei Aluminum is suitable for thermal insulation of pipes, roofs and walls, anti-corrosion thermal insulation, travel mats, beach mats, camping moisture-proof mats, luggage, ice pack interlayers, etc.
With effort of embossed aluminum foil manufacturers, aluminum foil can not only be compounded with glass fiber cloth of different specifications, but also can be compounded with Kevlar, carbon fiber cloth, flame retardant cotton cloth, aluminum silicate ceramic cloth, silicone cloth, pearl cotton, non-woven fabric, etc. It is a good thermal insulation material, which are mainly used in pipeline protection, automotive, construction, etc.