Food aluminium foil has excellent properties such as poor air permeability (especially for oxygen and water vapor) and light-shielding, as well as shape retention and rigidity. Therefore, aluminium foil is used to package food as long as it prevents air from entering the food packaging bag. The thickness of food grade aluminium foil used for composite material is 0.007~0.009mm, which is also more economical. At present, the thinner aluminum foil has 500 to 600 perforations per square meter. If the necessary strength is ignored, it can only be moisture-proof. If its thickness is more than 20μm, it can meet the requirements of non-porous and moisture-proof.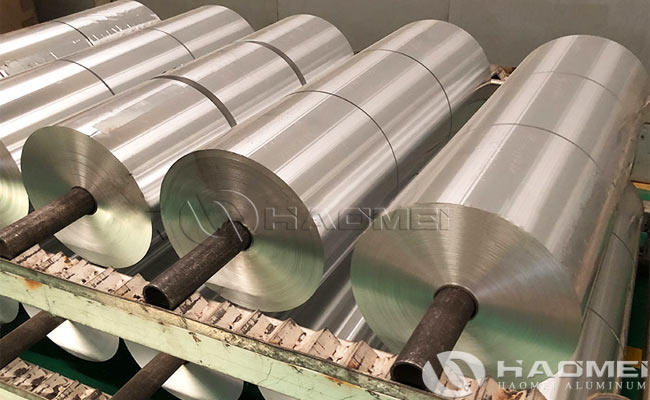 The food aluminium foil have grade of 3003 and 8011 aluminum foil, which thickness is 0.006-0.2mm, which can meet the requirement of food packaging. Aluminum foil food packaging bags have important characteristics and advantages such as high temperature resistance, puncture resistance, and non-deformation! The features of food grade aluminium foil are:
1, Strong air barrier performance, anti-oxidation, waterproof and moisture-proof;
2, Strong mechanical properties, high blast resistance, strong puncture and tear resistance;
3, High temperature resistance, low temperature resistance, oil resistance, good fragrance retention performance;
4, Comply with food packaging hygiene standards;
5, Good heat sealing performance, flexibility, high barrier performance.
The food aluminium foil is often used as the most suitable packaging. It can be made into various specifications and styles. It has good water barrier properties and good oxygen barrier effects, so the effect is quite prominent in use. Composite packaging made of aluminum foil, paper, PE and other multi-layer materials is an ideal packaging material for food with long shelf life, low use cost, and low environmental impact in the world today. The surface quality, pinholes, unfolding performance and other quality indicators of food grade aluminium foil have a great impact on the shelf life and appearance quality of beverage packaging. Therefore, the quality requirements of aluminium foil for food packaging are extremely strict.