Prime quality packing aluminium foil 8011 is our company's superior hot-selling product, we Haomei Aluminum can process 8011 aluminum foil with a thickness of 0.016-0.5mm. 8011 packaging aluminum foil is mainly used in the fields of pharmaceutical packaging, food packaging, cable foil, milk cap material, sealing foil and other fields. Haomei Aluminum can be customized according to customer needs.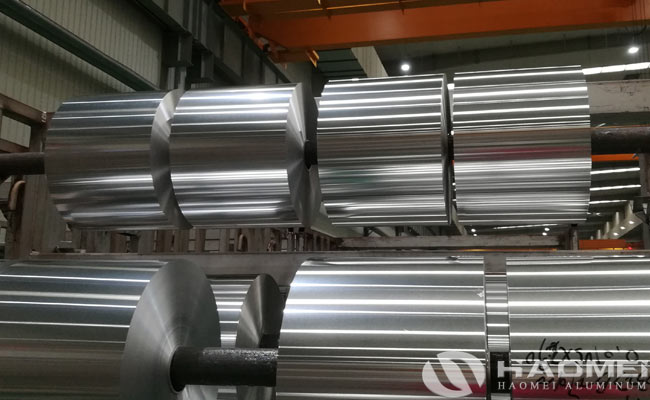 To be used as packaging material, the quality requirement of aluminum foil is strict. Adhesion and tearing are not allowed when the aluminum foil is unrolled, and the results of the adhesion test should be acceptable. The end face of the packaging aluminum foil should be neat, and no serious burrs, staggered layers, arrows, towers, bumps and other defects affecting use are allowed. Aluminum foils in the O soft temper may not be jointed, but can be jointed conditionally (that is, using an ultrasonic welding instrument). Aluminum foils in other temper should be jointed, the length between the joints should not be less than 1000m, the and number of joints  should be comply with the regulations.
8011 aluminum foil is used for bottle caps: white wine bottle caps, red wine bottle caps, cosmetic bottle caps, milk powder caps, pharmaceutical cap materials, beverage cap materials, yogurt caps, etc. Advantages: food grade, water-grade A, low ear-making rate;
8011 aluminum foil is used for pharmaceutical packaging: PTP medicinal aluminum foil, cold stamped medicinal foil, 8011-H18 medicinal packaging aluminum foil, capsule aluminum foil plate, etc. Advantages: high cup convex value, high aluminum foil strength, good sealing performance;
8011 packing aluminium foil is used for food packaging: food packaging, heat-sealing foil, lunch box material, container foil, aluminum foil gasket for sealing; Advantages: clean surface without foreign matter, food-grade, safer.