Haomei Aluminum is a professional manufacturer of various pre cut aluminum foil sheets, pop up aluminum foil sheet and aluminum foil square. As a new type of aluminum foil food packaging material, pre cut aluminum foil sheet is becoming increasingly popular among consumers. The pop up type aluminum foil sheets can be easily and quickly used without the need for users to cut it again. Nowadays, it is widely used in barbecues, fast food, aviation, hairdressing and daily life.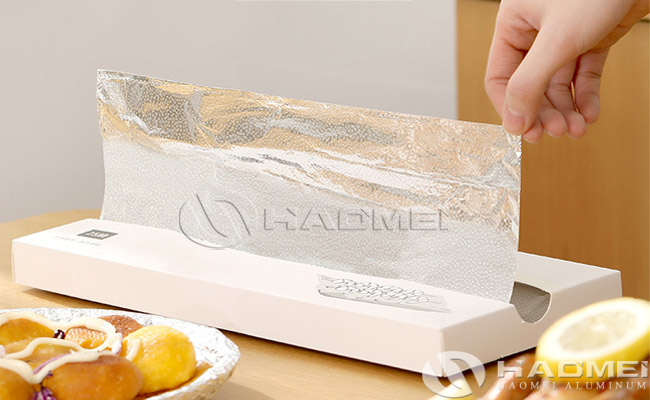 The pre cut aluminum foil sheets have square size with pre cut process, when people use it, it is more convenient without tear from aluminium foil roll. The pre cut foil sheets produced by Haomei Aluminum has specification of:
Pop up aluminum foil sheets can be customized according to customer requirements,
with specific options such as 20 pulls, 25 pulls, 50 pulls, 100 pulls, 200 pulls, and 500 pulls.
The specifications include 225mm*273mm and 304mm*273mm.
The thickness ranges from 9 micrometers to 18 micrometers.
Surface treatments include aluminum color (untreated), printing, and coloring.
Surface embossing options include embossed and smooth.
In general, household foils are aluminum color without embossing.
Packaging options include paper box + carton and plastic bag + carton.
In addition, if customers need color printing on the tissue, our company can provide food-grade, high-temperature-resistant color printing, including text, logo and patterns.
The pre cut aluminum foil sheets can be used in daily life, household use, hairdressing and so on, among them, the household use is more common used. Aluminum foil sheets can isolate air and does not absorb moisture or grease, thereby maintaining the freshness of food and extending the shelf life. At the same time, pop up aluminum foil sheets can withstand temperatures ranging from -40°C to 600°C, allowing users to complete a series of processes such as baking, freezing, transportation, and supply in a simple, safe, and convenient aluminum foil packaging.