The pop up foil sheets is a new type of aluminum foil product popular in the food industry in recent years. The aluminium pop up foil sheets adopts an interlocking folding structure (similar to the extraction tissue) and is installed in the extraction box. It can be operated with one hand to quickly complete the food packaging process. Compared with boxed rolled aluminum foil, the pop up aluminum foil sheet is more space-saving, and it also saves a lot of time for users because of its pre-cut feature.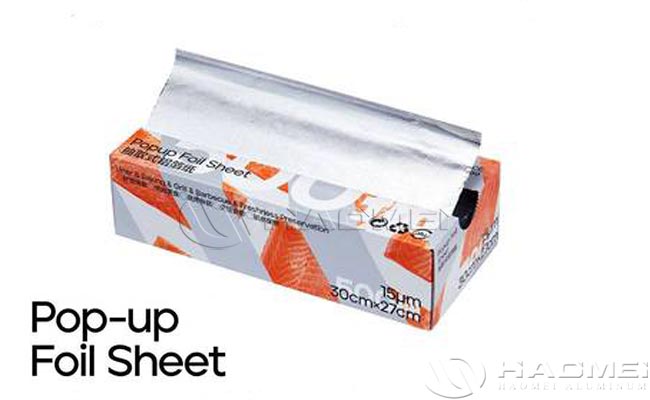 The aluminum pop up foil sheets can be colored, printed (up to 6 colors). Customers can provide PANTONE color number (PMS) or provide vector files for custom printing. A variety of different embossing patterns are available. After embossing, pop us aluminum foil sheets not only improves the appearance, but also increases the friction, making it easier to extract. No matter silver pop up foil sheets or color pop up foil sheets, we strictly control the quality for used in household, food wrapping. The aluminium pop up foil sheets we offer have been complimented by customers and they became loyal regular purchaser.
Specification description of pop up foil sheets:
Thickness: 0.011-0.02mm
Width: 120-400mm
Length: 230-400mm (the length of the extracted foil refers to the length in the folding direction), the international general standard is 273mm, which is 10.75".
Surface treatment: aluminum natural color (no treatment), printing, color coating
Surface embossing: embossed, smooth (less used)
Others: In addition to half-folding, there are also some three-folding ones to save space
Single packaging: 25-600 sheets, standard packaging is 200 sheets/piece, 500 sheets/piece
Commonly used packaging: carton + carton + wooden case.