Haomei Aluminum became one of the leading printed aluminium foil manufacturers since 10 years ago. We have advanced production line and experienced engineer and workers to produce prime quality aluminium foil product. What's more, Haomei Aluminium foil product have wide application and cover many industries. The printed aluminium foil is a high end product in aluminum foil series. The most common seen printed aluminum foil color is gold/silver/red, this kind of aluminum foil is used for packaging, and the blue and yellow printed aluminum foil is used as a hydrophilic air conditioner foil.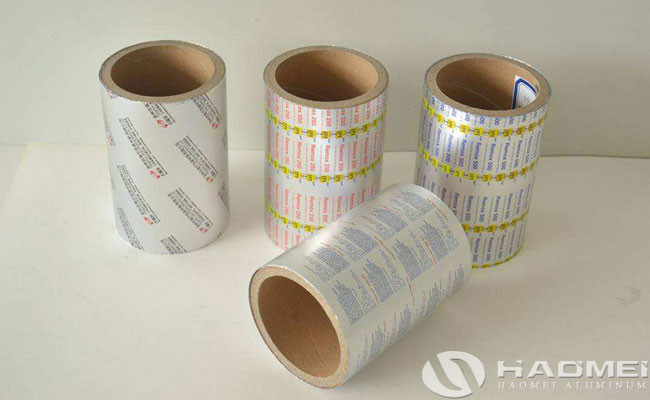 All aluminum foil lists of high difficulty, high complexity, unpopularity, and cross-industry that cannot be handled by aluminum foil counterparts are aluminum foil products that our company needs to develop with great effort. As a member of professional printed aluminium foil manufacturers, Haomei Aluminum has received many foreign orders, and many aluminium foil products developed every year have filled the domestic market gap: such as aluminum foil for high-speed rail, cheese packaging aluminum foil, salt spray-resistant aluminum foil, aluminum foil for cigarettes, ice cream aluminum foil, medical cold punch aluminum foil , Double-sided insulating aluminum foil, aluminum foil strips with a width of several millimeters, ultra-wide aluminum foil over 1500mm, high temperature and low temperature resistant aluminum foil sealing materials.
The printed aluminium foil manufacturers in China have enhanced the processing strength and developing degree, our goal is to provide more and more special and useful aluminum foil product to customers all over the world. Nowadays, aluminium foil are widely used in food, beverages, cigarettes, medicines, photographic plates, household daily necessities, etc., usually used as packaging materials; electrolytic capacitor materials; thermal insulation materials for buildings, vehicles, ships, houses, etc.; also can be used as decorative gold and silver wire, wallpaper and decoration trademarks of various stationery prints and light industrial products, etc.