Silver aluminium tobacco foil paper is a type of laminated material that has good properties such as oxygen resistance, water resistance, ultraviolet protection and insulation, which are exactly what is needed to keep cigarettes fresh. Aluminum tobacco foil has a bright appearance and a tough texture, and when used for packaging cigarettes, it can effectively protect them from external influences, thus maintaining the quality and taste of the cigarettes. Although silver aluminum foil paper may seem small, it plays an indispensable role in protecting cigarettes.
This silver aluminium tobacco foil paper is suitable for cigarette and tobacco packaging machines and is used as the lining paper for cigarette cartons, providing sealing, moisture resistance, and decorative effects. It is widely used in various cigarette and tobacco packaging boxes domestically and internationally. The detailed specification of aluminium tobacco foil offered by Haomei Aluminum are:
Alloy temper: 1235 O soft
Grammage: 45-80gsm
Width: 82mm, 84mm, 86mm, 114mm, 115mm
Length: 1500-2000m
Core inner diameter: 58 & 76mm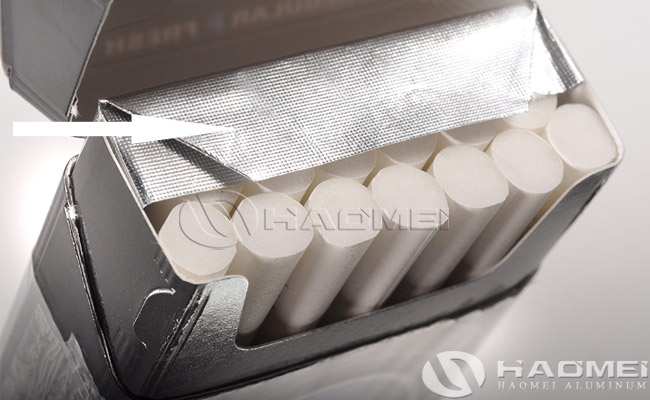 What are the effect of silver aluminium tobacco foil paper in cigarette boxes?
Silver aluminium foil paper itself is a special material made of aluminum foil and uncoated paper layers.
Silver tobacco foil paper is commonly used to package well-known brands of cigarettes to enhance the product's texture and appearance.
The use of silver aluminum foil paper also provides fire resistance, moisture resistance, and preservation. Most cigarettes on the market now use silver paper for packaging.
Based on a deep understanding of silver aluminium tobacco foil paper products, Haomei Aluminum always uses imported high-quality aluminium foil as raw materials and employs unique production techniques and process designs. The high end aluminum foil cigarette liner paper produced by the company is renowned for its high gloss and stable composite quality, making it a leading enterprise in China's aluminum foil cigarette liner paper production.