The tobacco inner packaging foil paper is an important part of the cigarette package, which mainly plays the role of moisture-proof and flavor-preserving, and keeps the quality of the cigarette stable during the storage period. The lining commonly used at home and abroad today is a composite aluminum foil lining. Aluminum foil paper used as cigarette lining paper mainly includes calendered aluminum foil paper and aluminized paper. Composite aluminum foil paper has become a material with development potential. Its high barrier and anti-corrosion properties to light, gas and water effectively protect cigarettes from external natural factors.
The thickness of tobacco inner packaging foil paper is basically 0.0063-0.0065mm. The surface of the tobacco foil is smooth and traceless, the plate shape is flat, there are few pinholes, the cost is relatively low, and the chemical properties are relatively stable. The tobacco inner packaging foil product has good roll forming, stable operation, no wave edge, and is suitable for various roll packaging machines with excellent adaptability. The composite fastness is good, the color is uniform and bright, the graphics are clear and complete, the quality is stable and reliable, and the product safety and hygiene indicators meet or exceed industry standards.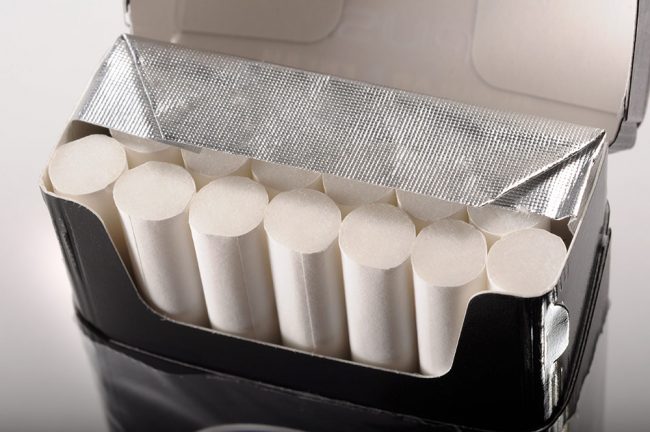 The tobacco foil paper product manufactured by Haomei Aluminum are:
1, Specification: 55g×80mm×1800m (can be customized
2, Thickness: 6.5 micron aluminum foil
3, Aluminum foil model: 1235, 8011 O
4, Inner diameter: 58mm, 76mm, 120mm, 150mm
5, Packing: standard export pallet packing.
6, Color: gold, silver, PET composite aluminum foil, transfer aluminum foil, embossed aluminum foil, colored aluminum foil.
7, LOGO: Can be customized with incoming samples, free design.
8, Delivery time: 10-15 days
9, Application: This tobacco aluminum foil paper is suitable for cigarette packaging machines, and its finished product can be used as the lining paper of cigarette boxes to play the role of sealing, moisture-proof and decoration, and is widely used in various packaging boxes at home and abroad.
Tobacco inner packaging foil paper has strong moisture resistance and no smell, because it cannot have any influence on the taste of cigarettes. Moreover, the non-toxic requirements for the lining paper of cigarette packs exceed any product guaranteed by food hygiene, so it is the highest in terms of purity.