Haomei Aluminum supply wholesale wide aluminium foil with good price, we have advanced super wide aluminum foil production line to ensure product quality. The production machine is ultra-wide aluminum foil rolling mill with roll surface width ≥2000mm. For wide aluminium foil product processing, it takes over 10 years development and research, the processed wide aluminum foil with thickness of 0.005-0.2mm are applied to compound packaging, food packaging, medicinal foil, air duct foil, the aluminum grades of wide aluminium foil are 8011/1235/1060/1070/3003.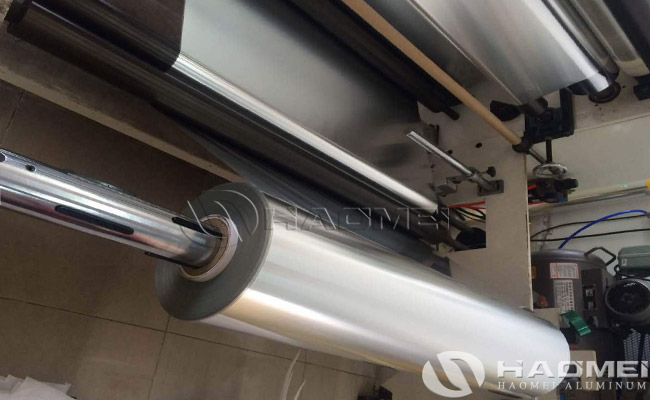 Ultra thin wide aluminium foil is characterized by many pinholes, easy-to-break strips and difficult plate shape control. These have always been technical problems in the aluminum foil production industry. In order to break through the technical barriers, Haomei Aluminum Foil has finally developed a set of new production processes through numerous experiments through equipment modification, reduction, rectification of rolling oil, and optimization of plate profile curves, etc., and achieved the mass production of 0.005mm wide aluminum foil. The thin and wide aluminium foil product is not only small in use, but also thin and wide, which can meet the complex specifications of various package products. The current annual output can reach 1,000 tons, which have good market response.
The wholesale wide aluminium foil is a development trend of high level aluminum foil product processing. According to calculations, if the thickness of the wide aluminum foil is reduced, the use area of the wide aluminum foil of the same weight can be increased by 26%, and the aluminum foil of the same area can be saved by 21%. As the world pays more and more attention to energy conservation and emission reduction, the wide aluminium foil product application prospects are broad. It is understood that the ultra-thin wide aluminum foil applied to packaging products has contributed to reducing carbon emissions.