The air duct can quickly suck away the waste burned by the stove and the oily fume generated during the cooking process, and discharge it to the outside. At the same time, the fumes will be condensed and collected to reduce pollution, purify the air, and have the safety and security effect of anti-toxic and explosion-proof. Commonly used air duct exhaust pipes are made of aluminum foil and plastic. It is necessary to choose a good air duct material.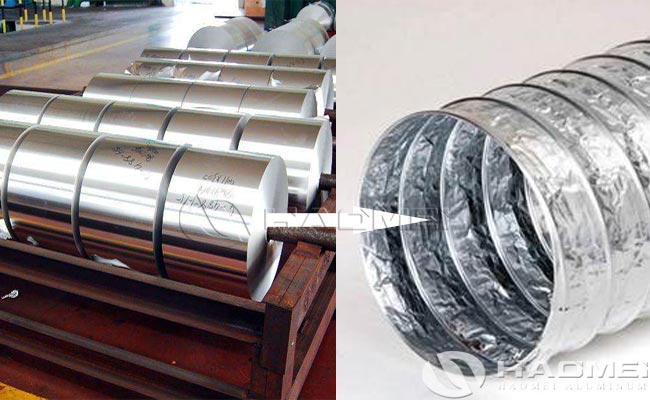 The aluminium foil for flexible ducting ventilation is generally made of 8011 soft aluminum foil, and it is supported by a circle of steel wires inside of air duct, so that it can be shaped. 8011 aluminum foil has the advantages of high strength, good ductility, easy processing and forming, and good sealing performance and high temperature resistance. Compared with plastic air ducts, aluminum foil for air duct have a longer service life and are not easy to age. In addition, the range hood will make some noise when it is working, and the aluminum foil air duct is relatively soft, so the noise produced is smaller, and it is not easy to smell when exhausting the smoke.
The aluminium foil for flexible ducting ventilation of the range hood is made of high-quality 8011 aluminum foil, and the raw material specifications are various to meet the needs of different users
Material state: O, H14, H16, H18, H19, H22, H24
Thickness (mm)0.016-0.5
Width (mm) 100-1700
Typical products: air conditioner purifier, air filter, filter and dust collector, etc.