The aluminum foil for hair dye are produce in rolls or pre-cut into square piece for easy access. The hair dying aluminium foil is one of the most commonly used hairdressing aluminum foils, it can be colored and printed (up to 6 colors). Embossing is also available for ease of use, and the embossing increases the storage capacity of hair dye on the aluminum foil surface, allowing for better and faster results. To prevent hair dye from flowing out, the edge of hairdressing aluminium foil can be folded. The width of the aluminum foil for hair dying are 85mm, 100mm, 120mm, 150mm, and the market hot sale hair dye foil specification is 0.02mm*120mm*300m, the section is neat and tidy, without warping and hairy edge phenomenon.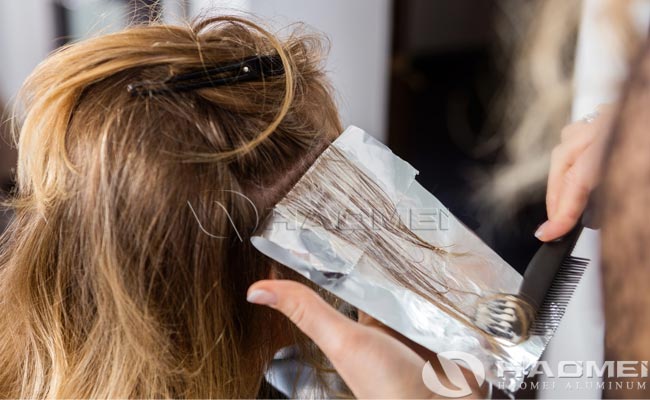 Specification description of aluminum foil for hair dye are:
Alloy and temper: 8011 O H14 aluminium foil
Thickness: 0.012-0.025mm
Width: 120-200mm
Length: 160-300mm or rolls length according to requirement
Surface treatment: Aluminum natural color (no treatment), printing, coloring
Surface embossing: embossed, smooth, folded edge
Single package: 50-1000 sheets, standard package is 500 sheets/piece
Common packaging: paper box + carton; plastic bag + carton
In addition, Haomei also provide more advanced aluminum foil for hair dye. A layer of aluminum foil and a layer of paper stacked separately is called one paper and one foil for hair dying, a kind of commonly used hairdressing foil. The purpose of sandwiching the paper is to avoid sticking together and to facilitate access. The pop up aluminum foil for hairdressing takes the structure of interlocking folded extractable (similar to extractable tissue paper) and is packed in an extractable box to help hairdressers use it more easily and quickly.