The aluminum foil for ventilation is made of 8011 aluminum for stretched, which is continuously and tightly clamped by a spiral. Because the aluminum foil material has oxidative properties, it is generally covered with a layer of glue during production to isolate the aluminum foil material from the oxidation reaction of oxygen in the air. The aluminum foil air duct is mainly used for air duct ventilation in the terminal air supply stage of the fresh air system. Product thickness is generally between 0.08 and 0.2mm. According to the size of the spinning tool, it is theoretically possible to make an aluminum foil duct with an infinite diameter. However, according to the actual application occasion, the inner diameter is generally within the range of 60 to 200MM, and the length is within 10 meters.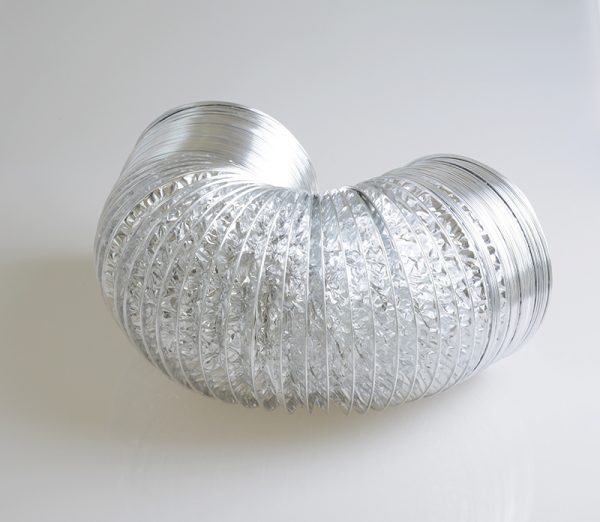 The aluminum foil for ventilation used on the upper and lower surfaces of the air duct is usually 8011 aluminum foil or 1100 aluminum foil, with a thickness of 0.018-0.2mm and a state of H22/H18. After straightening, aluminium foil air duct has good self-sustainability, small wind resistance, clean and hygienic, and will not produce toxic gas in case of high temperature or fire. Aluminium foil for ventilation is suitable for high, medium and low pressure air conditioning and ventilation systems, and is easy to install.
The air duct made of aluminum foil for ventilation has excellent performance, so it is widely used.
1, High temperature and corrosion resistance, waterproof and noise reduction; can be bent and stretched at will, convenient and flexible to use.
2, Thermal insulation and fire prevention. The aluminum foil air duct is non-combustible, smokeless, non-toxic, fireproof, and has good heat insulation, which can greatly reduce the heat dissipation loss of the air conditioner.
3, Lightweight and durable. It is light in weight, can reduce the building load, and is easy to install. Strong weather resistance, can withstand wind, sun and rain for a long time.
4, Recyclable. The reuse rate of aluminum foil air duct can reach 60%.
5, Applicable to central air-conditioning, fresh air system, various machinery and other equipment exhaust and smoke exhaust.