Aluminum foil gaskets for container sealing are suitable for food, beverages, spices, detergents, motor oil, cosmetics, etc. The product is characterized by the separation of the aluminum foil sealing film from the cushion paper after induction heat, and the aluminum foil sealing layer is sealed with the bottle mouth, which is water-tight, spill-proof, anti-counterfeit and freshness-protecting.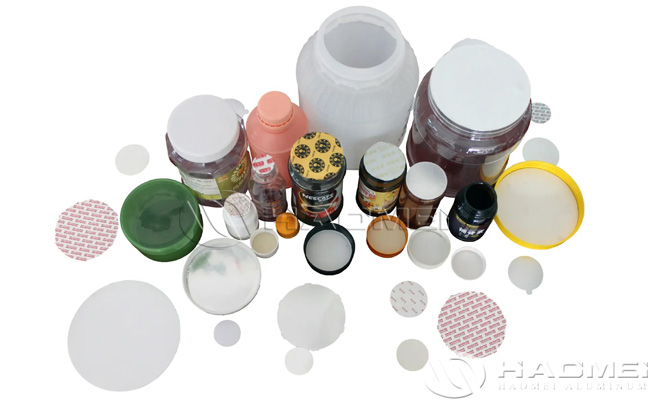 Aluminum foil gaskets for container sealing are made of 1235 O/H18 aluminum foil, 1235 aluminum foil is pure aluminum foil product and is widely used in cable tapes, tape foils, battery foils and bottle cap materials because of its good rustproof properties, formability and solubility. Advantages of 1235 aluminum foil for aluminum foil gaskets of container sealing supplied by Haomei Aluminum:
Source control of product quality, large factory direct supply, selected aluminum foil blanks, to ensure product quality from the source.
Advanced production equipment to realize the control of plate shape and thickness, and the production of aluminum foil products with a flat version.
The 1235 aluminum foil for sealing gasket produced by HaomeiAluminum has multiple advantages such as good product plate shape, beautiful color, no deformation in cutting and clean oil removal.
4.Fair price, Haomei Aluminum is a larger aluminum sheet and foil source manufacturers, all products factory direct supply, no dealer price difference.
Haomei Aluminum produces aluminum foil thickness 0.014-0.2mm, aluminum foil gaskets for container sealing 1235 aluminum foil, 1050 aluminum foil, 8011 aluminum foil, etc., using customized production methods, Haomei Aluminum is a large aluminum foil manufacturers, R & D, production, sales and integration, production process strict control, product quality reliable aluminum foil products, pharmaceutical aluminum foil, battery aluminum foil, lunch box material and other fields.