The china aluminium foil for medicine use 8011 and 8021 aluminum foil with temper O and H18. The medicine aluminium foil 8011 8021 has a thickness of 0.04mm-0.065mm and is commonly used in the production of cold-form foil, alu alu foil, aluminum blister foil, pvc/pvdf/pe/pet alu foil. The 8011 8021 aluminum foil has its own unique advantages in medicine packaging.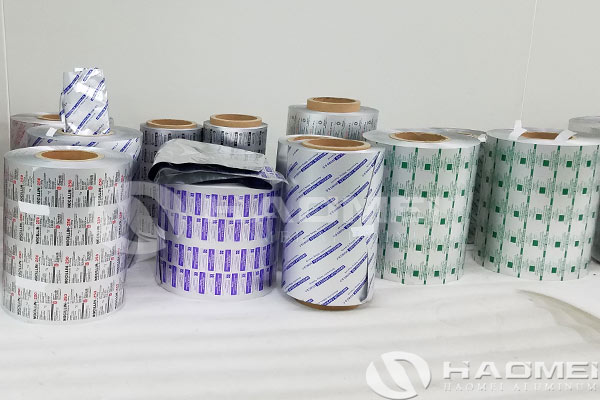 The requirements on the china aluminium foil for medicine packaging 8011 and 8021 are:
1, the version is flat, the layout has no bright lines, small black lines, color difference, black oil points and other phenomena, to give customers the greatest quality assurance.
2, ensure the porosity of the medicine aluminium foil when cutting, and the brush water grade reaches A.
3, the packaging is moisture resistance, avoid oxidation.
4, the thickness control should be more strict because the medicine aluminum foil can be composed with other material like plastic and pvc.
The china aluminium foil for medicine has wide application on the pharmaceutical packaging because it has the performance advantages as:
High barrier against moisture, oxygen, other gases, light and UV lights.
It can be staved slightly and easy to take the medicine.
According to customer needs, single side, double sides printing make better propaganda effect.
PTP Blister aluminum foil for PVC, Alu Alu Foil, Tropical Foil and heat seal foil can be processed.
Using in blister packing machine, alu alu blister packing machine, tropical blister machine.