Coating aluminum foil exporters supply aluminum foil with surface coated with a single-color, which has good boiling resistance, coating adhesion, and mechanical properties. The coated aluminum foil is mainly used for making food containers and food packaging. Coated container aluminum foil refers to coating a layer of food-grade paint on the surface of traditional container aluminum foil. It is mainly used for instant bird nest and packaging of high-end food such as lobster, pet food, self-heating pot, etc., has the characteristics of high barrier, UV resistance, moisture and corrosion resistance, and long shelf life, which perfectly fits the environmental protection and healthy life concept of the new era. Color coated aluminum foil manufacturer can produce water-based paint coated container foil with a thickness of 0.05-0.2 mm and a width of 500-1500 mm.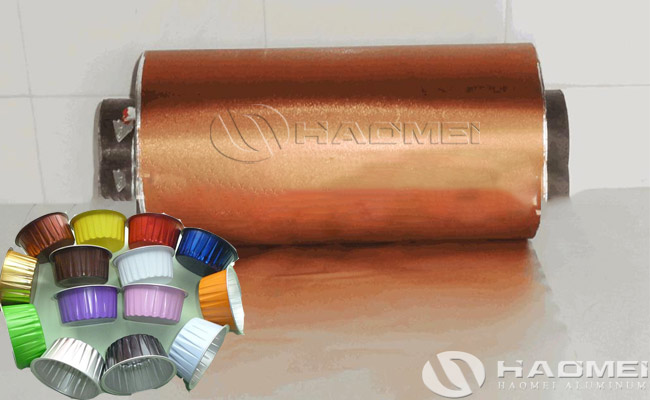 Aluminum container foil has the advantages of good thermal conductivity, good thermal deformation resistance, good corrosion resistance, microwaveability, lightness, hygiene, durability, and recyclability. It is widely used in aviation catering aluminum foil lunch boxes and microwave oven heaters, food grill plate, aluminum foil bowl, cake tray, stove mat, food packaging container production, refrigeration, freezing and fresh food packaging. Compared with general container aluminum foils, non-wrinkle color coated aluminum foil for container overcome the wrinkles in the stamping process and are more beautiful. Food-grade coatings avoid direct contact between aluminum and food and are more hygienic.
Coating aluminum foil exporters choose the aluminum foil substrate as the raw material; coat the base coat on the aluminum foil substrate; pass the coating machine on the bright surface coating of the aluminum foil substrate after overprinting. Advantages of color coated aluminum foil are high brightness, baking resistance and no discoloration (230-250 degrees), stamping resistance, good extensibility, suitable for die cutting, etc.