8011 aluminum foil is one of the commonly used Dos oil coated aluminium foil for bottle cap, the tempers are H14/H16. The thickness range of DOS lubricated aluminium foil for bottle cap is 0.15-0.27mm, and the width range is 330-1000mm. It can be used for wine caps, easy-open caps, pharmaceutical bottle caps, milk powder easy-tear caps, etc. Dos oil coated aluminium foil for bottle cap combines the strength and formability with the corrosion resistance, solderability and beautiful appearance in one material. Dos treated aluminium foil for bottle cap has the characteristics of corrosion resistance, non-toxicity, high strength and good ductility, and is widely used in food, beverage, oil, chemical, paint, paint, aerosol, bottle cap and many other daily necessities packaging.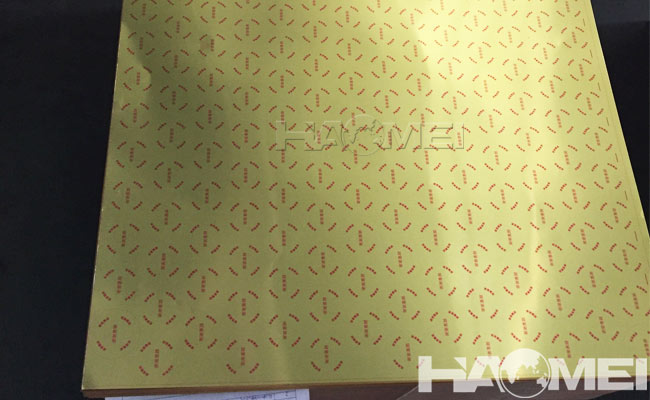 Dos oil coated aluminium foil for bottle cap generally have to undergo chromized treatment. The chromized film formed after passivation in chromic acid or chromate solution is not easy to interact with humid air, and has strong anti-corrosion ability. The chrome-plated plate coated with paint has high adhesion of the coating film and is suitable for making bottom covers of food cans and cupping cans. Chromizing treatment is a commonly used pretreatment method for aluminium foil for bottle caps products. A chromized film is formed on the surface of the product through a chemical reaction to enhance the corrosion resistance of the product and the adhesion of the coating. Before leaving the factory, the surface is coated with a very thin layer of oil film, so that it is easy to lift the stacks of tinplates one by one during use, and DOS oil is usually used. DOS also known as Dioctyl Sebacate, is a colorless, odorless, or light yellow transparent liquid. It is used for antirust, lubrication and stamping improvement of raw materials for food packaging containers. It is widely used in antirust and lubrication of tinplate coils, tin plate substrates, chrome plate coils (TFS), printed iron plates and aluminum foils.
Dos oil coated aluminium foil for bottle cap are very common in daily life. They are mainly used for the packaging of beverages, alcohol, and medicine bottles. They have the advantages of good sealing and high safety, and the market demand is very large. Aluminum bottle caps are generally made of 1000, 3000, and 8000 series aluminium foil for bottle caps. Since aluminum caps are mostly processed on a production line with a high degree of automation, the performance requirements of the material are relatively high.