Hairdressing foil is a kind of aluminum foil application in our daily life, besides of household foil, packaging foil and yogurt foil. The use of aluminum foil is getting wider and wider. In the beginning, the use of aluminium foil was mainly in the catering and cooking fields such as barbecue and baking. Now aluminum foil is also a necessity in the beauty and hairdressing industry. The commonly used hairdressing aluminum foil can be produced into rolls and sheets to use, the aluminum foil sheets is pre-cut for easy access.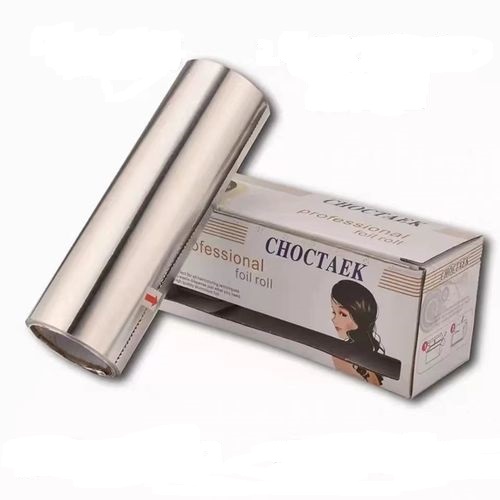 The hairdressing foil can be colored, printed (up to 6 colors), and embossed at the same time, which is convenient to use. After embossing, it can also increase the storage capacity of hair dye on the surface of the aluminum foil, which can achieve the desired effect better and faster. In order to prevent the hair dye from flowing out, it can be folded. The use of aluminum foil for hair dressing:
1: Make a certain shape and qualitative hair through the technique of the perm dyeing technician;
2: Absorb the heat of the heater during the hot dyeing process and increase the heating speed;
3: Isolate the hair during the hair dyeing process (mostly used in highlight dyeing and piece dyeing techniques).
Hairdressing foil has been tested many times by professional hairdressers and approved by many agents. The aluminium hairdressing foil is very easy to use, the specification is 0.017-0.02 mm, the length is 30-50 meters, and the width is 100 mm. The hair dressing aluminum foil is annealed so that hairdressers will not hurt their hands during use. According to the customer's specific order, we can strictly follow the contract to ensure the thickness, guarantee the width, guarantee the number of meters, guarantee the weight, guarantee the quality and guarantee the delivery date. Six kinds of guarantees make customers feel at ease.